Since last time I have finished something I didn't expect: socks!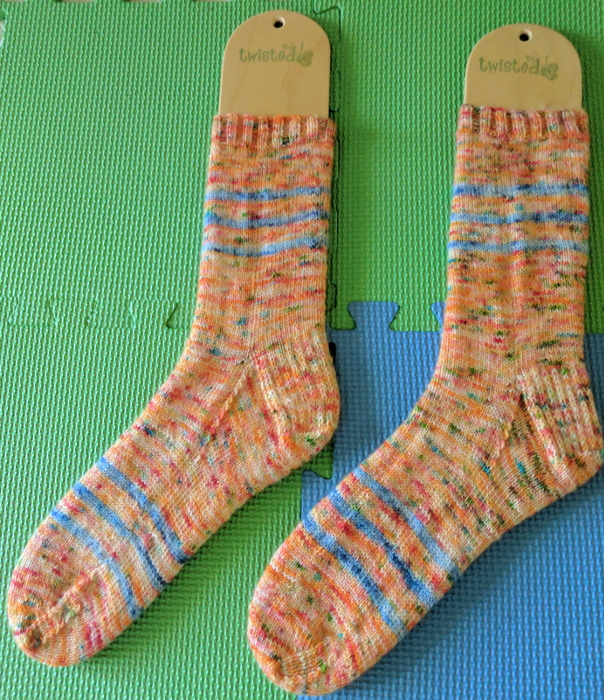 These socks I knit from some Louet Gems I had dyed with Kool-Aid. Dyeing with drink powders is great because the citric acid (which is already mixed in) is a great fixative and you probably won't die choking on the dust. I love it for speckles, which are most easily made with dry powder on wet wool.
I soaked the yarn in water and vinegar, then laid the hanks out on a vinyl tablecloth on my back patio. I sprinkled on a couple of packets of orange and carefully added just a bit of red, blue and green sprinkles on top. (Some type of rubber glove is great to prevent orange/blue/red hands) I then wrapped each skein in plastic wrap securely but not tightly and microwaved them for about 2 minutes each, total. I cut off the plastic wrap and let the yarn cool before I rinse it off and let it dry and finally, knit! You can see that these are slightly different colors, one skein is more concentrated than the other but I think for "handpainted" it's pretty consistent. The blue stripes is some leftover Koigu I had in my stash.
The pattern is just my typical vanilla sock recipe, cast on 64 stitches, knit some ribbing until it's long enough, and then just about 6-1/2" of leg, slipped stitch heel flap and about 7 inches in the foot before decreasing for the toe. I started these socks in 2015, but I had gotten off track when I discovered that the first sock was too short and that I would have to reknit the toe. But I recently had a major resurgence of sock mojo and decided to just finish these! I had taken the first sock off the needles and I was past the gusset on the second sock, so I finished them fairly quickly.
My excitement over knitting socks is carrying over into even more pairs of sock on my needles.
I had started some Monkey socks awhile ago, but I wanted to re-knit them since I had started them on 2.5 mm needles. I restarted them on 2.25 mm needles and I think this will help the fabric be more durable. I have managed to get the heel flap on the first sock. I'm thinking about setting these aside, though, and starting some Halloween socks. I love making Halloween socks!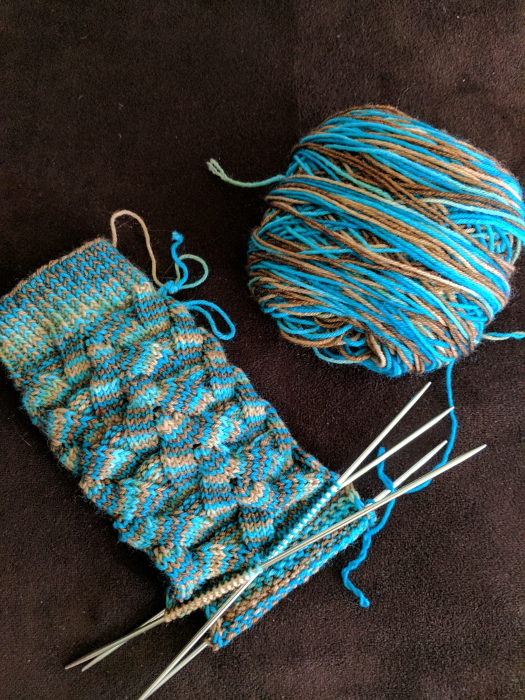 Yarn is Marigoldjen Yarns BFL/Nylon Sock in Santa Fe
And still more socks! These are just my basic sock recipe again, which I really like with self-striping yarns. I have a friend, Erin, at my knitting group who knits a ton of socks. She loves using 9" circulars, which are crazy short! But they are also pretty fast! Since I'm letting the yarn do all the work, I can just jam on these. They are definitely my new purse knitting.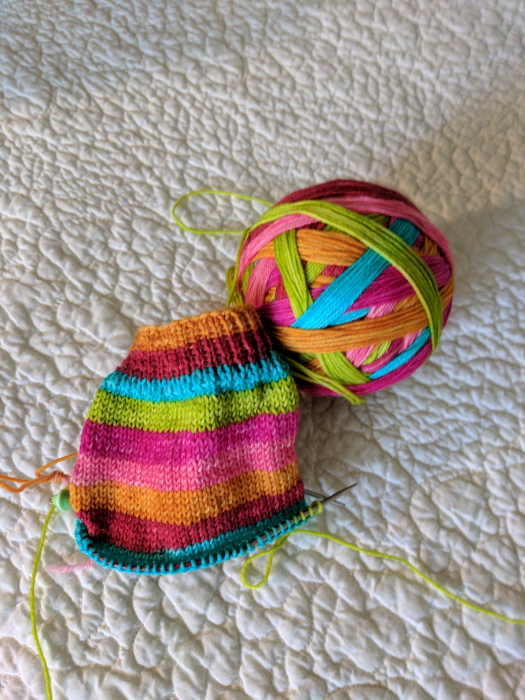 Yarn is Nomadic Yarns Trusty Sock in Gumdrop Buttons
For my birthday this spring, my sisters and I went to the coast. When we pulled into town, I looked across the street and said, "Oh, look, there's the yarn store." I swear I didn't plan it that way! But my sisters indulged me and I found some local handspun (my favorite thing to find at a LYS) called BFL Beautiful Fiber Life, #112. It knits up so nicely, so squishy and soft. I wanted a simple pattern to show off the quality of the yarn and the colors. I'm knitting Barley and it's just the ticket for this great yarn.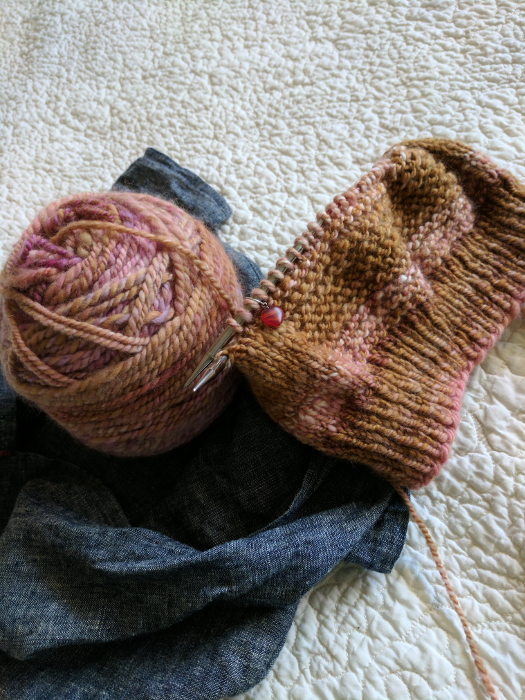 Crochet is not something I usually do much, but for some reason I like it as a summer-time palette cleanser. I have been seeing some awesome looking Granny Stripe blankets on Instagram,
(#grannystripeblanket) but I figured that's a lot of crochet for a novice like me. But then I found, buried in my knitting tools and old swatches, a pair of little granny squares I had made on a lark from leftovers from my sock yarn blanket project. I played around a bit, making the squares larger and even making a third…
Then I started looking at my sock yarn scraps. I have been teaching at at local yarn store for the last year and a half, so I have been knitting a lot fingering weight accessories for my class samples. I have a shopping bag full of sock yarn, not including the yarns in my current projects or waiting in my stash for future projects. The colors are mostly my favorites: purple, green, gray, and blue with some pink and red and black thrown in for good measure.
I jumped. I started the Granny Stripes Blanket from Purl Soho, but I'm not striping as instructed in the pattern, just one row of single crochet at the beginning and probably at the end, as well. Another good pattern I found after I got started is from Attic 24. The yarn is a bunch of minis attached using Magic Knots. I spent a good chunk of the weekend dividing my leftovers into 5-12 gram minis and made 3 separate bags to spread the colors throughout the blanket. I'll make some big yarn cakes from these scraps and see how far these leftovers can take me.